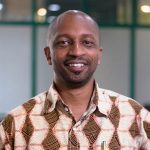 Dr. Robert Karanja is the Co-Founder and Chief Innovation Officer at Villgro Africa. Villgro Africa is a startup incubator and impact investor focused exclusively on health innovations in Africa.
Robert began his career with the dream of eradicating malaria. To this end, he completed a PhD in medical parasitology and spent almost a decade at Kenya's premier medical research institute, KEMRI. But over the years, he realized the problem with malaria wasn't scientific – it was financial. It was inextricably linked to the poverty and inequity of the communities most affected.
So Robert started to grapple with the question: "how do I use cutting-edge science not just to tackle biology, but also to tackle poverty? How can we generate wealth and launch viable health ventures that will address gaps in coverage?" This question would lead him first to launch a bioentrepreneurship program at Strathmore, one of Kenya's leading universities, and then to join forces with Villgro, one of the world's first impact incubators. In 2015, Robert co-founded Villgro Africa, a franchise offshoot of the global Villgro model focused exclusively on health innovations in Africa. Robert shares what it was like to launch Villgro Africa, and how he needed to adjust the traditional incubator approach to match the economics of Africa.
In the last part of today's conversation, Robert hints at the next great venture he is turning his attention towards. He sees a massive untapped opportunity in the genomic wealth of Africa paired with modern mRNA technology. He argues that clinical trials and precision health studies could be delivered here in Africa, both serving the global market competitively and also providing more appropriate health solutions locally. He points at the gap that exists in the global pharmaceutical industry, and how Africans can rise to fill this gap. And of course he's working to change all of that, with the launch of an innovation hub that will bridge the gap between research and the real world.
Show Notes
Similar Episodes
If you, like Robert, are interested in creating the environment needed for innovations to succeed, you might enjoy these conversations with other ecosystem builders:
Excerpt
This is an automatically generated transcript from the full interview. Like humans, machines aren't perfect, so there may be some inaccurate or amusing transcription errors.
Robert: More than half the health issues we face in Africa are poverty related diseases. And so when you look at Africa, a population of about 1.1, 1.2 billion people with a purchasing power that is not very strong for the industrial sector, the pharmaceutical industry, they've neglected this market. So normally you'd expect that where you have a lot of disease, then that means there is high demand and then supply naturally flows there. That doesn't work for Africa. What actually you've seen is that the 1.1, 1.2 billion of us, we are actually about 4% of the global pharma market. Now compare that to the US.
Rowena: That's tiny.
Robert: In terms of population, we are probably about 11% of of the global population. So when you look at it and you ask and we have about 25% of the global disease burden.
Rowena: Something's not adding up here.
Robert: Exactly. So it is a massive market failure. And for me, what I realize is that we call this poverty related diseases, which means if we just attack them purely with science, what we're really doing is we are trying to treat the symptoms and the root issue remains there. And so ultimately what happens is that it will keep cropping up again, you know, issues to do with sanitation, lack of clean water.
So the appropriate way to deal with health issues in Africa is to ask, how do we flip this into an opportunity?
How do you create local value chains? How do we create wealth as we solve this problem? It means stop and to think not just as a scientist, but thinking more like an industrialist and understanding how does money flow and how do you create market value even as you do the science?