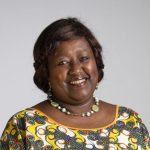 Dr. Agnes Binagwaho joins us today to talk about the role of digital health in the remarkable transformation of Rwanda's health system post-genocide.
She is a paediatrician, former Minister of Health of Rwanda, Senior Lecturer at Harvard University, Advisor to the Director-General of the WHO, and co-founder of the University of Global Health Equity.
What are the failed promises of digital health? How has data been a North Star to her work? And what steps did she take to show the world that Rwanda today stands for truth?
Conversation Highlights
(02m59s) – When health data is held hostage
(04m21s) – How HIV brought electronic medical records to Rwanda
(10m06s) – How data supports effective health systems governance
(16m10s) – Using Twitter to take a stand
(20m54s) – Whose data do you trust?
Links
Similar Episodes
If you enjoyed this discussion about how governments are leveraging new technologies to improve healthcare in their countries, take a look at these similar episodes: