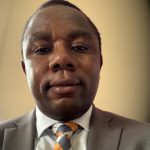 After more than 15 years in Ghana Health Services, Dominic Atweam has seen all the major digital health systems in Ghana come and go. But one system withstands the test of time: DHIS2 (or "DHIMS2" as it is branded in Ghana).
Dominic was a key actor in the decision by Ghana Health Services (GHS) to adopt DHIS2. In this walk through history, Dominic retells how he first learned about the system, how he launched it on a shoestring budget, and the reason why it continues to be used so widely in Ghana today.
Dominic was a Health Information Systems Expert for over a decade within the Division of Policy, Planning, Monitoring, and Evaluation (PPME), the Division of GHS charged with oversight on digital health deployments in Ghana. He recently joined the World Health Organization to continue promoting effective health information systems use at all levels of the Ministry of Health.
Show Notes
Excerpt
This is an automatically generated transcript from the full interview. Like humans, machines aren't perfect, so there may be some inaccurate or amusing transcription errors.
Rowena: Dominic. There's one one topic where this kind of tension plays itself out quite a lot, which is the question of local hosting. There's a lot of applications out there that say, hey, I want to build some innovation. I want it to be used in Ghana, and I'd like to host it on some server somewhere in the United States or the United Kingdom. And then there's a lot of reasons not to do that as well. Can you speak a bit about how that kind of tension has arisen in the programs that you've seen and what the pros and cons are that you've been navigating?
Dominic: So I can even start from our DHIS2 platform.
Rowena: Yeah, let's do that.
Dominic: I mean, when we started that, people had a misconception about cloud hosting and local hosting server, etc. So we did an evaluation of all the companies that were in Ghana that had co-locations services, bandwidth services.
95% of them were getting the bandwidth through third parties! Third parties means outside the country.
So, if you go and put your server at… I don't want to mention any companies… At a particular company's location service, he gets the bandwidth from another country anyway! So it's practically the same thing.
Yes, Ghana Health Services doesn't have a proper data center for now, at least to support a backup service. I mean, if they want to, fine, but I'll personally not advise for that.
Look, EU regulations on data hosting against African Union regulation, on data hosting, which one will you pick?
Rowena: I… I guess I would lean towards the EU one: GDPR. It's very strict.
Dominic: Thank you! Because it's very strict and they make sure that things are implemented to the letter. So if you tell me that I'm procuring a dedicated cloud server in Ireland, and it belongs to GHS – we have access to everything and we've signed a contract with them and we can see them when they go – which one is much safer than getting a company here in Ghana.
And the price is 70 percent what you pay for in Ghana. What do you do?
Dominic: So I think that that is a misconception and I think we need to do much more work about what cloud hosting can do for companies. We need to talk much more about that, because we've come a long way. I mean, if you are buying a physical server, it means you're going to change it every three years. You need security, you need access and everything. 24 hours power, electricity, bandwidth.
Rowena: ….the air conditioning, the staff to do it…
Dominic: Thank you.
The government is doing well building a data center for agencies and all that. Yes. But can the bandwidth be guaranteed? 24 hour bandwidth, can that be guaranteed?
Sometimes in offices you don't even have the internet to work with. I mean, so how much more it is, trying to have the bandwidth to support a server to make sure our users get connected and all that. The fact is, you have the money and you want to do your own collocations server and have your own datacenter. Why not do that? I mean, that should be done. But, hey, I will always go for cloud servers.
I don't think we have anything to worry about. But I've done all the evaluations and I think it is far far better and far cheaper and far more secure than most of the local hosting that we want to do. That Is my opinion anyway.
Rowena: Dominic, it's great, great to hear you articulate that I think it's you've you've really hit the nail on the head on that one. And I don't hear a lot of people speaking on this issue as clearly as you just did. So I agree. I would love to to get this message out there more, because I think, on the other hand, there are a lot of countries, maybe not Ghana, where they say, you know, "It's our data. We want to keep it in country so that we can protect it against another country, holding it against us or using our citizens information." But but but but there are so many safeguards against that.
If it's encrypted, if it's fully encrypted, then even if Ireland declares war on some random country, they still won't be able to access the data because they won't have the secure key. And so there's certain things that you can understand looking at it from a technology perspective. So thank you for sharing those words.
Dominic: And I think we need to do more on that.
Rowena: I fully agree.
Dominic: We need to do more to make people aware. I think people are not aware of these and possibly maybe that the policymakers, that politicians should be oriented more on that, because a lot of times they are like, "Why is a Ghana server sitting in Ireland?" It's not! It's just a cloud service.
I mean, do you know where your other data is sitting? On Facebook, your emails and other things. Do you know where it's coming from? Then none of us will be on Google email.