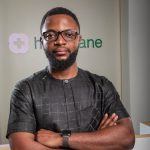 Dec 31, 2022 update: since this interview was released in July of 2022, reports have emerged of Healthlane's struggles. This is a reminder that even after winning investment, startups must balance the aggressive expansion demands of private investors with sound financial and risk management.
Alain Nteff is the CEO and Founder of Healthlane. Healthlane delivers precision personal health plans through a network of world-class laboratories in Africa.
Alain's work has been lauded by Bill Gates and honoured by the Queen of England, the President of Rwanda, and Rebecca Enonchung. Yet his approach to digital health has undergone dramatic changes over the past ten years.
He started off with GiftedMom, a service providing safe pregnancy messages to pregnant women. GiftedMom reached over half a million women in countries across Africa. But after the hype faded, Alain saw again and again heartbreaking instances of women who traveled long distances to health facilities for a safe delivery, only to receive substandard care when they arrived.
So, Alain decided to expand the work of GiftedMom to ensure quality care of women in delivery. GiftedMom introduced 'fast-track lanes' within hospitals in order to provide appropriate urgency and quality of care to women in delivery. This was how Healthlane was born.
2020 was a fateful year. Alain was admitted to Y Combinator, the most successful startup accelerator in the world. This was the final push Alain needed to tackle preventative health by the horns.
Healthlane today provides premium health quality assessments. It gives people access to a world-class set of comprehensive diagnostics that provide deep insights into the most important machines of our lives: our bodies. And it's available in major cities across Africa like Lagos, Abidjan, Douala, and Nairobi.
Show Notes
Startup School from Y Combinator is the single key resource Alain identified that prepared him for successful admission into the prestigious Y Combinator program. Y Combinator is widely acknowledged to be the most successful tech startup incubator in the world.
Hacker News from Y Combinator is an excellent resource to stay up to date about the latest in tech and startups around the world.
Alain gives a shoutout to Talia Frenkel. She was a Visiting Partner at Y Combinator who had a pivotal influence on the core offering and identity of Healthlane during its formative time in Y Combinator.
Similar Episodes
If you enjoyed Alain's story of launching a tech startup in Africa, you might enjoy hearing from these other founders:
Excerpt
This is an automatically generated transcript from the full interview. Like humans, machines aren't perfect, so there may be some inaccurate or amusing transcription errors.
Alain: 2020 happened. 2020, the year of COVID.
We had been accepted into the Y Combinator program because we wanted to raise a seed round to expand and create more fast-track lanes within hospitals. We successfully raised the round, $2.5 million.
The lockdown happened. I was in San Francisco at that time, but I couldn't return home. In the midst of fund raising and all the investors are like, we don't know what's going to happen. There were all these memos coming out like, the world is going to be crazy in the next months. But Investors are still going to be investing. And we were prepared for this. We successfully went on to raise a successful seed round from, like, some of the best investors in the valley.
Rowena: That's fantastic.
Rowena: What did that program do for you?
Alain: Y Combinator was one of the most transformative programs I've had. In my entrepreneurship journey.
Alain: Why? Because before getting to I see we're trying to raise funds. It took us about two years to raise. In the process of fundraising, we didn't know why we're we're not raising money. It's only when we got into YC that we noticed, like the whole process of fundraising, the whole process, how we're structuring the investors that we're talking to. Our structure in our growth was not the best ways to give us a blueprint for growing our business and fundraising. And that's why in three months, we're able to close a seed round of 2.4 million at a great valuation, which it was it was a better valuation than what we had before getting into the program, which we didn't which we didn't even see closing. Yeah.
Rowena: That's amazing. For two years, looking for funding unsuccessfully to three months. Suddenly you've figured it out. What did you change? What did you do that allowed you to secure funding?
Alain: Yeah. So before. Before what I see this is and I'm not sure every entrepreneur that maybe hasn't gone through an incubator is going through this right now. We were talking to investors, so I would tell you, put all your investors, if you are ready and want to invest, don't invest and be running the business at the same time. Block out three months from your business and focus on fundraising. List out all the investors you want to talk to. And make sure that you manage the conversation with all the investors in this time frame. Why it gets momentum going. There are some aspects of FOMO fear of missing out and it gets the momentum and gets the round close. Quickly, before I see
Rowena: Fascinating.
Alain: We spend two years talking to one investor at a time so you can speak with the investor for six months. They tell you are going to invest the juju. They do. We had like three audits by by Deloitte.
Alain: Each investor comes that does that. They do the audit. Then they tell you, oh, we want this condition fulfilled before we invest. Then you spend another three months or six months with another one. So we spend two years like no organization, no momentum.
Rowena: You must have been really spent by the time you got into Y Combinator.
Alain: I remember the evening. So we had an investor were about to close. We had gone through we had we we had a term sheet that was signed. We had to go through due diligence. Due diligence had several stages. There was a financial audit which was done. It was great. There was a technical audit which was done. There was were not on the paperwork, which was really, really cumbersome when I was talking to other investors and they were like, Why are you going through all this paperwork? I did not understand that as a company at this stage, you shouldn't be doing this. We should be raising non saves. So save is like a simple document that y y combinator d for like to fast track investments at the seed stage. We didn't know this, so
Alain: We're going to combat some paperwork. So after about maybe nine months of going through paperwork, we had the investors come to our office. We thought, we're closing. I told the team like, Oh, we've done everything. The investors are coming, we are going to close. So guys, prepare for champagne after this meeting.
So when I got into the meeting, we had a we had a business contract that we were about to sign. And to my surprise, the investor said, So we really want to delay the decision until you sign the contract that you have on the table. That came from nowhere.
Rowena: Until you get a new deal. Until you close a deal.
Alain: That came from nowhere.
When they left, I came back outside. My team was still waiting and I told him that's the new condition. That the disappointment I saw in their faces. I've never seen I've never seen that before.
Rowena: That's heartbreaking.
Alain: So immediately everyone went home. That was like November of 2019 or maybe maybe earlier or August of 2019. I can't remember. But when I saw that when everyone went home at night. I sat in the office. I took a white board and I told myself, I'm not taking money from these guys.
I'm going to get us into Y Combinator.