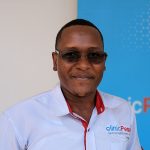 Chrispinus Onyancha is the Founder and CEO of clinicPesa. clinicPesa is a FinTech company that provides affordable healthcare financing to the uninsured in Africa through mobile money.
This is the story of Eng. Onyancha Chrispinus the Founder and CEO of clinicPesa. It's the story of how he was able to rise, first to the top of his class and then to secure a prestigious MIT fellowship. Finally Chrispinus struck out on his own to create an internationally-funded digital health business, clinicPesa.
Today clinicPesa serves over 1,870 Hospitals, clinics, and pharmacies across Uganda. It provides a variety of products focused on health savings and loans. In less than 4 months, they were able to reach 250,000 Ugandans, and they are now looking to grow to 1.4 million customers by close of year. These products are built on mobile money and other cellular technology to make the act of savings and payments friction-less for people and providers alike – with or without an internet connection. Where gaps exist, clinicPesa also provides short-term medical loans. This year, they are expanding their offerings to include new product lines in the pharmacy supply chain.
Show Notes
Chrispinus is an MIT D-Lab Scale-Up Fellow. He credits this experience with giving him the capabilities and tools he needed to forge a strong partnership with MTN, the largest telecommunications company (telco) in Uganda.
Bob Collymore was an immense source of inspiration for Chrispinus Onyancha. Though Bob was unable to afford university, he built Safaricom into an $11 billion telco. It is the largest telco in Kenya and one of the most profitable companies in East Africa.
Similar Episodes
If you enjoyed Chrispinus's story of launching a healthcare startup in Africa, listen to these similar episodes: