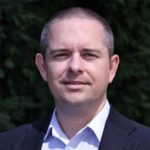 On March 8, 2020, Dr. Tedros asked Andy Pattison to set up the World Health Organization (WHO)'s global COVID-19 hotline, a process that would normally take months if not years.
12 days later, Andy and his team launched the largest WhatsApp chatbot in the world.
Tune in today to hear from Andy himself exactly how it all went down.
This conversation was recorded live at the Chat for Impact Summit in November 2022, hosted by Turn.io in partnership with WhatsApp. Turn.io is a technology spin-off of the South African non-profit Praekelt.org, best known for their tool to build interactive messaging apps (or "chatbots").
Show Notes
Excerpt
This is an automatically generated transcript from the full interview. Like humans, machines aren't perfect, so there may be some inaccurate or amusing transcription errors. In this excerpt, Andy is referring to events in February of 2020, as the world was just starting to grapple with the magnitude of the rising COVID-19 pandemic.
Of course, everyone's super busy trying to save the planet.
Probably the busiest man on the planet was Dr. Tedros [Ghebreyesus, the Director General of the WHO].
Eventually, after about a month and a half, two months, I got this call to come and see DG [the Director General].
I said, "What I'd like to do is get you on a phone call with each of the principals of the Big Six companies. So let's get you on a call with Sundar from Google, Satya from Microsoft, Jeff Bezos from Amazon, etc."
And we ended up setting those calls up in a row, one a week, where we got on the call with the principals of these companies, who obviously realized the situation was vital for them to take the call, gave us their time and effort.
It was in one of these calls, with Sheryl Sandberg and Mark Zuckerberg, when Mark said, "Listen. We've got WhatsApp, we've got this chatbot. I can give you 50, 100 engineers for the next ten days. Why don't we do something amazing?"
If you'd like to receive an automated transcript of the full interview, send a note to hello@aidevolved.com with the subject:"Andy Pattison Full Transcript"