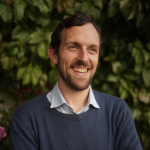 Sebastian Manhart has recently concluded his role as COO of Simprints. Simprints is the world's only nonprofit biometrics company focused on the last mile. He now works as an Advisor on Digital Identity for the German Federal Chancellery, the World Bank, and ID2020.
The conversation you're about to hear falls roughly into two parts. The first traces the eventful six years that Sebastian spent at Simprints. We start with a bunch of scrappy young kids studying in Cambridge – with an idea. We trace this over the years to the organization today, which has reached well over a million people in 12 countries. We cover the ups and downs, the risks and successes along the way. Part of what you'll hear in this story is the rise and popularization of digital identity in the aid sector.
In the second half of our conversation, we dive into the nuanced and tricky issues surrounding digital ID. How do we strike the balance between the work of institutions and the needs and rights of individuals? How have the currents of change shaped the way that this technology was introduced, and how it's being taken up. And where do we go from here?
Show Notes
Similar Episodes
If you liked this chat with Sebastian Manhart, you might also enjoy our chat with Rosa Akbari about the use of digital identities in humanitarian response, drawing on her experience from Mercy Corps and the International Rescue Commission.