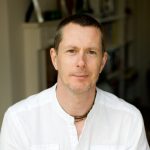 Ken Banks built the first version of FrontlineSMS over 5 weeks while unemployed at the home of his in-laws. Just a few years later, it was in use by development and conservation organizations in more than half of the countries in the world. He's described himself as a "scrappy" man who enjoys building his own websites and living out of a camper van for two years. And yet the world knows him as an authority on mobile technology for positive social and environmental change, as an adventurer and National Geographic Emerging Explorer, and as someone who's brushed shoulders with and won the support of people as diverse as Desmond Tutu and Peter Gabriel.
In our conversation, Ken describes the unlikely beginning of FrontlineSMS – including how little it was used in the first two years after it was built. He shares how he started out running a primate sanctuary in Nigeria, and his initial work in conservation before global health and development really entered his life. He shares the surprising chain of events that led him to specialise in mobile technology for positive social and environmental change. And he also opens up about the stress of running a global, mission-critical piece of software, as well as the challenges he's faced within the aid and development industry. Finally we talk about his move into the private sector in 2018, to work on digital identity with Yoti as its Head of Social Purpose.
Show Notes
Excerpt
This transcript is an excerpt from the full interview.
The Value of "Free" Software
This is an excerpt from our conversation. Listen to it all here.
Ken: When people downloaded the first version, I asked for their email address and I asked them to tell me where they were and what they planned on doing with it. And I got hammered for that. I got hammered for that.
Rowena: Really? Why?
Ken: People would say to me, "you shouldn't be asking people that"; "this is supposed to be a free and open source thing"; "It's all about trusting others, and just throwing your stuff out to the world and not asking questions." And it was strange.
But I think the one thing that proved incredibly useful to me was as soon as we started to get traction and as soon as it started to build, I could reach out to everybody that had downloaded and used it and say, "what can I add that's useful to you? What doesn't work?
And so functionality was always built on the back of what people asked for and wanted, not what I could build because it was cool. And I see way too much tech that's built because it's cool, or functionality that's added because it's cool.
FrontlineSMS was a one megabyte download.
Rowena: Wow, that's crazy.
Ken: And I look at these games my kids play, they're eight, nine hundred megabytes. WhatsApp's probably 80 megabytes,
FrontlineSMS was lean, it worked. It didn't have anything more in it than it needed to have.
Rowena: Yeah, and there's an interesting thing that's happened over the course of this open source evolution. It definitely used to be, "everything's open source, everything's free," and now people are saying it's not actually free. Somebody needs to maintain these software products and somebody needs to push them forward. It needs to grow and evolve. Somebody needs to fix bugs. So there's a whole countermovement of "it's free, but it's not free."
And maybe open source is oversold.
What you were talking about there is making something available for free, but there is some kind of value that did become useful or important later on – which is the community, the outreach, the connections. You didn't ask for money, but you asked for an email, you asked for a name. And that seems like a very, very powerful thing to have, and a way to build the community that you needed.
Ken: Yes, completely. I still say to this day, although I'm not as up to date as I should be now, but at the time, we had the most vibrant, engaged, amazing community of users that inspired me every single day.
Rowena: That's awesome.
Ken: Some days I'd go online, and see somebody in Nicaragua had posted a problem or a question. And before I had a chance to answer somebody from Zimbabwe and somebody from Namibia and somebody from India had already dived in and answered, and they were all so determined to help each other. And it was just beautiful.
Software is one thing, but the community we built around it, that's even harder. Good communities are tough.
Companies Sell Products. Humanitarians Sell Stories.
Rowena: Now, looking back from all these years on, do you have any thoughts about the legacy of your work with FrontlineSMS?
Ken: I guess legacy is one of those interesting words… It feels a little bit sort of sliding towards an ego to think that you have a legacy or to want a legacy or even to work towards a legacy. And I've seen too many egos in my time that are destructive. So I've tried quite hard to not let mine take over in any way.
I wouldn't say that my legacy matters to me necessarily, but I do feel very disappointed, or upset or frustrated, that the sector doesn't really appear to be learning much from the lessons and the failures of the past.
Rowena: How do you mean?
Ken: People are still chasing shiny things. Donors are still funding in large part the wrong things. Too much development and tech work is based in the West. A lot of donors feel more comfortable funding Western based organizations. The salaries of a lot of people working in development are way over… some of them are incredible, let's put it that way. And for people working in the humanitarian sector, where you're working with people who are disenfranchised, impoverished, struggling day to day, some of the lives people were leading, working for organizations tackling that, just didn't feel right to me.
The kinds of things that FrontlineSMS taught me were: listen to your users, work with your users first and foremost, understand the problem, build appropriate technologies, give control to the users. I don't see enough of that, even now.
Rowena: It's sad how slowly the sector can move. In 2010, Rajiv Shah, the head of USAID, committed to increasing the funding for local organizations in-country from 10 to 30 percent of USAID's spending.
Didn't even come close during his entire term. And we still aren't close. And part of the reason for that is just that the whole system isn't built to make that possible.
But that is a future that I would love to see as well. You're right that very, very marginal progress has been made in that direction.
Ken: Yeah, I mean, if I have any legacy at all, I would hope that it's at least shifted a few people into developing solutions in what I would call a more appropriate, empowering way. And I know there are people out there that I've mentored and helped and then many FrontlineSMS users who used it as a stepping stone. Medic Mobile, for example, or FrontlineSMS:Credit which became Kopo Kopo. There's some wonderful stories of how Africa's Voices, out of Cambridge University, that came out of FrontlineSMS Radio. So some wonderful examples of how we incubated projects and incubated some great talent that has gone on to do amazing things.
Rowena: Awesome.
Ken: If my legacy is just having helped and encouraged a few people, that's totally fine by me.
Rowena: I hear you. Wow. Ken, these days, I know you've switched gears a bit and now you're in the private sector. Is it this thing that you're talking about just now, this frustration that you have with the aid sector, that got you to switch over?
Ken: In short, yes. I just got very, very tired and frustrated. You know, I don't think that I'm so amazing that people should just listen to me and do as I say…
Rowena: …They might…
Ken: But the wider issues around Western based organizations, money going to the West, people flying around, too many people like me still being in dominant positions, just led me to think, if I can't change the things that are bugging me…. I was going to bed angry. I was frustrated.
I wasn't happy anymore.
And I recognized I wasn't happy anymore. And I never want to wallow. I just thought, you know, let's just get out of this. I've had a good run, I've done two books, I'm working on a third one now.
And so I thought I'd look at the private sector. So clean, right? I mean, a company exists to make a product. If people want the product, they sell the product, they make money. They continue to exist.
Many people, in the humanitarian, non-profit world, they exist by selling stories. And the stories aren't always real.
Rowena: Whoa.
Ken: So you don't really have to be doing something that people really want. You just have to convince other people who've got the money that other people want it.
I'm so much more comfortable with the out and out economics of work back in the private sector. And so that's how I ended up at Yoti.
Rowena: Oh man. I really love the way that you describe that, selling stories instead of products. It resonates… in an uncomfortable way. You've hit the nail on the head.