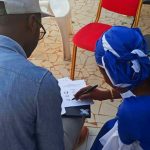 Today we dive into the life and side hustles of Ismaila Diene, a senior executive within Dimagi. Born, raised, and now returned back to Senegal, he shares his experience with the diaspora, homecoming, foreign aid, entrepeneurialism, and structural inequity.
Ismaila is a member of Dimagi's global executive management team. He leads our team in West Africa, runs a major global consulting practice, and is Dimagi's representative to government in multiple countries. At the same time, he also manages to bring technology leadership to our product roadmap, raises two children, and balances a host of side hustles outside of work.
Ismaila shares how growing up with four sisters has made him a 'feminist by default'. Following the influences that shaped many in his generation, he went abroad to study and work. Then he made the fateful decision to come back to Senegal.
Outside of his work in aid and with Dimagi, Ismaila leads many local initiatives. One of these provides capital to finance local agricultural enterprise. Another provides health insurance to his community. These provide a fascinating case study on the kind of efforts that are being driven for Senegal from within Senegal.
Show Notes